Habitat Atlas for Wildlife at Risk
Bobolink
Dolichonyx oryzivorus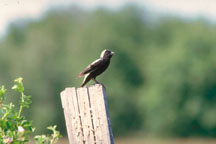 Bobolink
Length: 15 cm.
Males have a distinctive black body, buff crown and extensive white markings on the wings and back.
Females resemble large sparrows with buffy crown stripes, buffy breast.
Status:
British Columbia Blue List
Special Significance
Bobolinks are small relatives of blackbirds, meadowlarks and orioles that breed in scattered, small populations throughout the Southern Interior in moist hayfields in valley bottoms. Much of the Bobolink's habitat is privately owned, so landowners are encouraged to assist the continued survival of this bird by delaying hay-cutting until after the bird's nesting season.
Distribution
In British Columbia, Bobolinks breed in localized sites in the Southern Interior valleys north through the Cariboo-Chilcotin to the Prince George area.
Elevational range is 300 to 800 metres.
Habitat
Bobolinks inhabit open country with a preference for large hayfields, moist meadows and weedy fields dominated by a mixture of tall grasses; birds will also use marshes and other open places in the autumn.
Original prime breeding areas were damp meadows and natural prairies with dense growth of grass and a few low shrubs; today most Bobolinks nest in hayfields along valley bottoms.
Well-concealed nests are built in ground hollows frequently at the base of tall weedy plants.
Reproduction
Bobolinks arrive in May and depart in August.
Birds lay 5-6 eggs in June; nestlings can be present from mid-June to mid-July; young leave the nest in 10 days before learning to fly.
Males will mate with several females each season.
Food Habits
Birds forage primarily on seeds when adults arrive in the spring and on insects after young hatch.
Caterpillars, grasshoppers and beetles are main components of summer diet augmented with grain or weed seeds.
Interesting Facts
The Bobolink has the longest migration of any North American songbird, spending the winter months in the pampas (native grasslands) of Brazil and Argentina.
During courtship, male Bobolinks perform song displays every few minutes, flying up to 40 metres in the air while giving long, bubbling songs.
Threats
Very few natural meadows and tall grass breeding sites are left.
Nests and eggs are destroyed in early summer when hayfields are cut.
Disturbance of nesting sites by humans or livestock.
Management Considerations
Delay harvesting of hayfields until after mid-July.
Protect known nest sites from human disturbance.
Protect important habitat such as marshlands and tall grass meadows.
References
1. Van Damme, L.M. 1995. Draft. Status Report on the Bobolink, Dolichonyx oryzivorus, in British Columbia. Ministry of Water, Land and Air Protection, Lands and Parks, Victoria, B.C.
2. Cannings, R.A., R.J. Cannings and S.G. Cannings. 1987. Birds of the Okanagan Valley, British Columbia. Royal British Columbia Museum, Victoria, B.C.