Habitat Atlas for Wildlife at Risk
Brewer's Sparrow
Spizella breweri breweri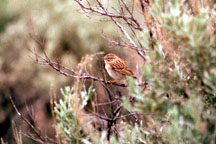 Brewer's Sparrow
Length: 13 cm.
A small, pale sparrow with a plain, unstreaked breast.
Crown is finely streaked with no hint of a central line.
Status:
British Columbia Red List
Special Significance
The Brewer's Sparrow may be plain in appearance but its song is one of the most beautiful and complex in the North American shrub-grasslands. Two subspecies occur in British Columbia, the Timberline Sparrow in alpine meadows in northern mountains and the sagebrush race in sage benchlands in the South Okanagan. The latter form is in danger of being extirpated in British Columbia. Heavy grazing and clearing of sagebrush for urban and agricultural development has seriously affected the availability of suitable nesting areas. The preservation of remaining Brewer's Sparrows depends on the careful management of remaining large tracts of dense sagebrush habitat. Heavy grazing of sagebrush sites should be avoided, and areas cleared of sagebrush should be restored wherever possible.
Distribution
This subspecies is restricted to sagebrush rangelands south of Penticton in the Okanagan Valley, especially Yellowlake Creek, White Lake, Manuel's Flats (Oliver) and Richter Pass, and in the Similkameen Valley at Blind Creek, Chopaka Customs and Kilpoola Lake.
A few have been seen in the Thompson Valley near Kamloops.
Elevational range is 350 to 1800 metres.
Habitat
Requires extensive tracts of open brush lands including sagebrush, plains, alpine meadows, valleys with low shrubbery.
Nests in arid sagebrush-grassland habitat; nests are built in sagebrush and small shrubs, usually near the ground (mean height of 30 to 49 cm).
Birds forage in sagebrush habitat, although wetlands and shrubby ravines may also be important insect foraging areas during the nesting season.
Reproduction
Birds arrive at breeding sites in late April or early May.
Eggs are laid from mid-May to mid-June and hatch from late May.
Young fledge early June to mid-July.
Food Habits
Feeds on seeds and insects, especially caterpillars, on the open ground between and beneath the sagebrush plants.
Interesting Facts
Musical song is a canary-like series of varied bubbling notes and buzzy trills at different pitches.
Threats
Loss of sagebrush habitat due to agricultural and urban development.
Burning and clearing of sage for range improvement.
Heavy grazing may reduce the amount of insect prey.
Susceptible to pesticides in insect prey.
Management Considerations
Avoid further removal of sagebrush for residential, commercial and agricultural development.
Monitor and reduce the use of pesticides.
Restore sagebrush to areas which have been cleared in the past.
Avoid heavy grazing in sagebrush areas.
Protect known nest sites from human disturbance.
References
1. Cannings, R.A., R.J. Cannings and S.G. Cannings. 1987. Birds of the Okanagan Valley, British Columbia. Royal British Columbia Museum, Victoria, BC. 420 pp.