Habitat Atlas for Wildlife at Risk
Fringed Myotis
Myotis thysanodes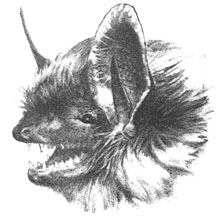 Fringed Myotis
Total length: 9 cm; wingspan: 28 cm; ears: 2 cm long.
Weight: 7.0 grams.
Dorsal fur is pale brown; underside fur is much paler.
Outer edge of the tail membrane has a distinct fringe of small, stiff hairs that can be seen with the naked eye.
Status:
British Columbia Blue List
Canada: Vulnerable
Special Significance
This species is at risk because of its small British Columbian population, vulnerability to disturbance and low reproductive rate. Further research is required to determine the roosting habits, diet and seasonal movements of the Fringed Myotis. Unfortunately, bats tend to be viewed as undesirable by many people, when in fact they perform invaluable ecological roles, such as keeping insect populations in check. Conservation of riparian areas, which support a diversity of insects, is an important factor in helping to ensure the continued survival of this species.
Distribution
Limited distribution in British Columbia, restricted to the arid, low elevation valleys of the dry interior including the Okanagan, Similkameen, Thompson, Fraser, Chilcotin valleys and the Williams Lake region.
Elevational range is 300 to 800 metres.
Found nowhere else in Canada.
Habitat
Fringed Myotis use caves, mines, rock crevices and cliffs, wildlife trees, and buildings for day retreats and night roosts.
Bats are associated with arid grasslands and ponderosa pine-fir forests.
Riparian areas along lakes, streams and rivers are presumably important foraging areas for the Fringed Myotis.
Nursery colonies are usually located in cliffs; loose bark in ponderosa pines may also be important maternity sites.
Scant information on hibernating sites suggests this species may migrate only short distances to cave hibernation sites; may hibernate in inaccessible rock crevices.
Reproduction
Breeding occurs in the fall after female bats leave maternity roosts; fertilization occurs between the end of April and mid-May; the gestation period is 50 to 60 days.
Nursery colonies are established mid- to late April and remain stable until September; female bats give birth in late June or early July.
Young males are not usually reproductively active during their first autumn; the age when females reach sexual maturity is unknown.
Young bats develop rapidly and are capable of limited flight at 17 days of age; young attain adult size by the age of 3 weeks.
Food Habits
Fringed Myotis are late feeders; bats begin foraging an hour or so after sunset.
Bats eat moths, flies, beetles, leafhoppers, lacewings, crickets, harvestmen.
Prey is gleaned from tree trunks, branches and leaves, and the ground.
Interesting Facts
Named the Fringed Myotis because of the conspicuous fringe of hairs on its tail membrane.
Consistently found in association with many other bat species.
Threats
Extensive land development in the Okanagan has eliminated or fragmented their habitat (low elevation forest, grassland and riparian areas).
Their low reproductive rate means a slow recovery rate after disturbances.
Easily disturbed by human presence; disturbance at winter hibernating sites can be fatal.
Sealing mine shafts reduces opportunities for summer roosting and winter hibernation.
Use of pesticides may reduce availability of insect prey.
Management Considerations
Avoid the use of pesticides, particularly near wetlands and riparian areas.
Protect important habitat such as low elevation forest, grassland, and riparian areas.
Establish a buffer zone of at least 100 metres around roosting sites.
Preserve old mine shafts, but erect gates to prevent human access to caves and mine sites.
Refrain from entering caves or mine shafts, particularly during winter months when bats are hibernating.
References
1. Nagorsen, D.W. and R.M. Brigham. 1993. Bats of British Columbia. Royal British Columbia Museum Handbook, Victoria, British Columbia
2. Rasheed, S.A., P.F.J. Garcia and S.L. Holroyd. 1995. Status of the Fringed Myotis in British Columbia. Ministry of Water, Land and Air Protection, Lands and Parks, Victoria, British Columbia