Habitat Atlas for Wildlife at Risk
Canyon Wren
Catherpes mexicanus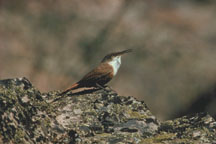 Canyon Wren
Length: 12 cm.
Small, with slim, slightly curved bill.
Rusty plumage, with a dark rufous-brown belly contrasting with a white breast and throat.
Status:
British Columbia Blue List
Special Significance
In Canada, the Canyon Wren is found only in the Southern Interior of British Columbia but the heart of the range is in the Okanagan Valley south of Penticton. This species is at risk because of its small provincial population size, vulnerability to human disturbance and degradation of cliff habitat. The survival of this rare bird could be assisted by protecting cliff nesting sites and discouraging human removal of talus. Further studies are required to determine the distribution and population status within the Okanagan Valley.
Distribution
In Canada, locally distributed in the Okanagan Valley between Osoyoos and Naramata, occasionally seen in fall and winter north to Vernon; in the Similkameen there is suitable habitat but only 2 known localities from Hedley and Chopaka at the south end of Richter Pass; also occasionally breeds near Castlegar.
The main Canadian range of the Canyon Wren is the Okanagan Valley south of Penticton; it is found in arid mountains south to southern Mexico.
Good places to see Canyon Wrens include the rock bluffs at Vaseux Lake, the east side of Skaha Lake, and the Little Tunnel on the Kettle Valley Railroad north of Naramata.
Found up to 435 metres elevation in the Okanagan.
Habitat
Canyon Wrens live in rugged terrain fractured cliff faces, talus slopes, rocky bluffs and gorges, canyon walls with large boulders or rock outcroppings.
Cliffs and canyons, interspersed with open, patchy forests of ponderosa pine and Douglas-fir in shrublands featuring big sagebrush, rabbitbrush and antelope brush.
Require rock cliffs with deep crevices, small caves or very large diameter talus for nesting; they prefer large angular boulders with nooks and crannies for nesting.
Nests have been located on ledges below overhanging cliffs, behind large boulders, and on a narrow ledge on a cliff face.
Reproduction
Normally lay 5 or 6 eggs from mid-April to early August.
May raise two broods in a season; eggs laid in late April or May with possibility of second brood in late June or early July.
Nests are bulky cups of twigs with lichens, moss and fine grass; nests often include large amounts of spider webs, wool, and human-made artifacts.
Food Habits
Diet includes insects, spiders and other invertebrates.
Search for food in rocky habitats, including shady crannies, caves, deep rock crevices and large diameter talus on lower slopes.
Interesting Facts
Canyon Wrens are most easily recognized by their beautiful songs that carry great distances from their cliff habitat. The song of clear, descending notes evoked this comment, "Ringing off immense cliffs or echoing from huge boulders, the cascade of clear whistled notes is not easily forgotten."
Threats
Successive severe winters can significantly impact local Canyon Wren populations.
Wrens are disturbed by human activities, such as rock climbing, removal of talus and mining on rock canyons and cliffs.
Management Considerations
Discourage rock climbing and other forms of disturbance on cliffs used by Canyon Wrens.
Discourage removal of talus for rip-rap.
Avoid blasting cliffs when developing urban areas or highways.
Protect known nest sites from human disturbance.
References
1. Cannings, R.A., R.J. Cannings and S.G. Cannings. 1987. Birds of the Okanagan Valley, British Columbia. Royal British Columbia Museum, Victoria, BC.
2. Campbell, R.W., N.K. Dawe, I. McTaggart-Cowan, J. Cooper, G. Kaiser and M.C. McNall. 1997. Birds of British Columbia: Volume 3. University of British Columbia Press, Vancouver, BC.
3. Terres, J. 1980. The Audubon Society Encyclopedia of North American Birds. Alfred A. Knopf, New York.