Omineca Region Ecosystems
---
Ecosystems is responsible for:
Regional and district ecosystem science and management.
Contribution to provincial biodiversity conservation planning and delivery.
Regional science, refinements and variances related to provincial guidelines, best management practices, standards and objectives.
Monitoring and reporting.
Development of results-based performance guidelines for forestry, agriculture, urban development, and other sectors.
Provide guidance to Fish and Wildlife Science and Allocation and Protected Areas sections, Environmental Protection and other agencies such as Ministry of Sustainable Resource Management and Ministry of Forests.
Work with partners to meet provincial biodiversity conservation goals.
Ecosystem restoration and enhancement.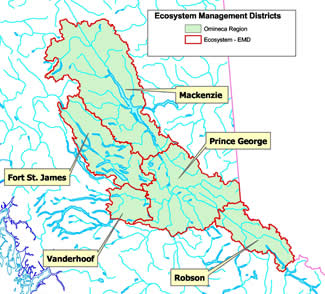 Regional Office
4051 - 18th Ave
Prince George, B.C.
V2N 1B3
Phone: 250 565-6135
Fax: 250 565-6940

District Office
2537 Stones Bay Road
Box 100
Fort St. James, B.C.
V0J 1P0
Fax: 250 996-5290