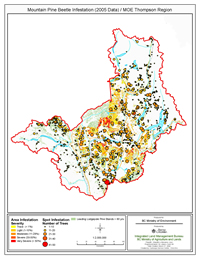 Introduction
Please Note: Severity mapping follows MOFR administrative boundaries and not MOE boundaries (which are different) therefore the area around the Bonaparte river is not accurately mapped for Mountain Pine Beetle Severity.
The BC Ministry of Environment (MOE) has initiated a strategy to address the impacts and implication of the Mountain Pine Beetle (MPB) epidemic and related management activities. MOE staff at headquarters and in regions will work under the guidance of the provincial Mountain Pine Beetle Action Plan 2005-2010 to address areas within MOE mandate affected by MPB. The provincial action plan has seven objectives to direct government activities. While MOE has a role in each objective, key MOE interests are targeted at four of the seven objectives.
1) Maintain and protect public health, safety and infrastructure
* Work by MOE staff will occur primarily in Parks and Protected Areas coordinating spread control and fuel management activities in coordination with Ministry of Forests & Range (MOFR)
2) Recover the greatest value from dead timber before it burns or decays, while respecting other forest values.
* Most input from MOE for this objective will be in support of MOFR and forest licensees to define targets for stewardship of ecological values (e.g.. stand and landscape retention, coarse woody debris) potentially adversely affected by MPB salvage.
Forest Stewardship for Mountain Pine Beetle Salvage
3) Conserve the long term forest values identified in Land Use Plans.
* MOE will participate with other government agencies and stakeholders to assess the impact of the epidemic on the full range of forest values to provide information for management decisions.
4) Restore the forest resources in areas affected by the epidemic
* A key function for MOE is to restore values adversely affected by the MPB epidemic or associated management. A key first step is the development of an Ecosystem Restoration Strategy that will provide a framework for assessing risks to values and priorities for treatment.
Southern Interior Strategic Ecosystem Restoration Document (PDF 531KB)

Links
MPB in Urban Areas
MPB Biology
MPB Management