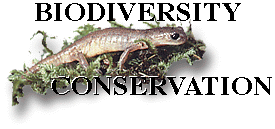 Biodiversity conservation programs in the Ministry of Environment work toward maintaining the diversity and abundance of native species and habitats throughout British Columbia. Activities include:
| | |
| --- | --- |
| | providing information and scientific expertise on species and populations: |
conducting and coordinating research in:
species and ecosystems at risk
sensitive species
wildlife health
ecosystem health

Wildlife biologist examining sedated wolverine.
developing strategies to protect the natural diversity of B.C., e.g., B.C. Biodiversity Strategy; Mountain Caribou Conservation Strategy; Wildlife Harvest Strategy; and

Identified Wildlife Management Strategy

;

participating on and/or leading recovery planning for species and ecosystems at risk;

regularly communicating, cooperating and developing partnerships with

regional staff

, other agencies, organizations and the public to maintain native species and their habitats (e.g.,

BC Frogwatch

, and stewardship programs such as Heron Stewardship) and to provide program objectivity and consistency province-wide;

coordinating and administering acquisition of land critical for wildlife, securing important habitat through the establishment of Wildlife Management Areas (WMAs - 22 presently approved, total area in BC = 231,516 ha,

more info

), Land Act Reserves, and Wildlife Habitat Areas (view a complete list of

approved WHAs

);

participating in and providing wildlife and wildlife value information for land use planning processes and practices, and environmental assessments and impact reporting; and

coordinating Branch planning for access management and habitat protection.
Species and ecosystems

inventory

activities are periodically carried out by the Ministry of Environment. Part of MoE is the

B.C. Conservation Data Centre

, which inventories and tracks species and ecosystems (elements) at risk in British Columbia.