Background
Wetlands are one of the most important life support systems on earth. Currently comprising about 5.6% or 5.28 million hectares of British Columbia, they provide critical habitat for fish, birds, and other wildlife. Most wildlife in the province use wetland habitat at some point in their life cycle, and many red- and blue-listed species are wetland-dependent.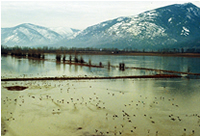 The functional contribution of wetlands in helping to minimize or remediate environmental problems is substantial. They absorb and filter sediments, pollutants, and excess nutrients; recharge groundwater; maintain stream flows; control runoff; store flood waters; reduce erosion; stabilize shorelines; and help regulate atmospheric gases and climate cycles. In short, wetlands absorb water quickly and release it slowly with an improvement in quality.
Wetlands provide for commercial and recreational use of wetland-dependent fish and shellfish, enhance agricultural productivity, and support a variety of scientific , educational and recreational opportunities. Environmental economists such as Robert Costanza have used various methods to estimate the economic market and non-market values of the goods and services of various ecosystems. For wetlands, the total value is estimated to be $19,580 hectare/year (1994 US$). Using this figure to estimate the goods and services value of wetlands, British Columbia's total wetland surface area of 5.28 million hectares would yield a potential value of over $100 billion/year. At a local level such as the Fraser Valley, the total wetland surface area of 41,906 hectares would yield a potential goods and services value to society of over $800 million/year.
There is a growing concern over the escalating rate of wetland losses in British Columbia. In the Fraser Vancouver Island, it is estimated that 50% to 70% of the original wetland habitat has disappeared. In the ecologically critical South Okanagan, wetland losses have reached 85%.
Action is required to help reduce wetland losses and provide for coordinated conservation and management efforts. Because wetlands occur across a range of ecosystem types and can be affected by various land use activities, a comprehensive approach is needed to ensure the protection and management of wetlands. It is intended that several initiatives currently under development, including the Biodiversity Strategy, Species At Risk Strategy, the Living Rivers Strategy, as well as ongoing Land Use Planning and Protected Areas management, will all play an important role in protecting, maintaining and restoring wetlands.
Below are links that will aid in improving our understanding of wetlands and provide an overview of what is currently being done to conserve and restore wetlands in British Columbia.
Wetland Evaluation Guide (PDF 1.6MB)

Wetlands Survey
The survey was commissioned in the fall of 2002 by the Wetland Working Group (WWG), whose members include Ducks Unlimited Canada, Canadian Wildlife Service, Ministry of Water, Land and Air Protection, Ministry of Sustainable Resource Management, West Coast Environmental Law Foundation, Federation of BC Naturalists, and the BC Wildlife Federation - Wetland Education Project.
The project goal was to highlight the significant work being done by individuals, organizations and government to protect wetlands in B.C., and to ascertain the location and kinds of projects that are being undertaken.
There are three parts to the survey: the first part is an introduction, the second part is the actual survey, and the third is a list of consultants working on wetland protection in B.C. Every effort was undertaken to make the survey as accurate as possible, however, if you notice any discrepancies, or would like to add additional projects, please contact the Ecosystems Branch, Ministry of Environment.
Survey Introduction (PDF 131KB)
Survey (PDF 1MB)
List of Consultants (PDF 96KB)