Water Inventory Data Management System (WIDM)
Manuals
Data Management
Introduction
---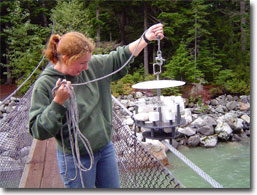 The Water Inventory Data Management (WIDM) system is an Oracle-based application developed by the Province of British Columbia to capture publicly funded, high frequency time series data from automated monitoring sites located throughout British Columbia. Currently, WIDM is the repository of provincial non-integrated hydrometric, automated snow pillow, manual snow surveys , observation wells and automated water quality data.
In addition to time series data, WIDM has the capacity to capture site and sample information including images, personnel, contacts, field notes, data source information, and discrete measurements, which are critical in the validation, grading and quality control of any obtained data.
Water Inventory Data Management System (WIDM) - Overview
WIDM is dynamically connected to the provincial Environmental Monitoring System (EMS) and the Continuous Monitoring System (CMS). This interactive sharing allows use of existing resources available within these corporate applications. WIDM uses common data elements with EMS for station information and parameter information. The Ministry standard is that all measured parameters need to be created and maintained within EMS. Because of this, there is no provision within WIDM to create or alter parameter information. It is understood that all proposed WIDM parameters are compatible with EMS standards and current EMS parameters: they will be created through EMS as needed.
Using CMS, the architecture incorporates the ability to automatically poll information directly from telemetry sites using modem, ftp or telnet protocol. WIDM also has the ability to load time series files obtained by manual download methods.
Diagram
HDMS/WQDMS/CMS/Loader Design

Water Inventory Data Management System (WIDM) - GIS Compability
By using data elements for station information that are common with EMS, WIDM is implicitly capable of being linked with GIS reporting and analysis mechanisms. As these mechanisms are developed, WIDM will be accessible.
Water Inventory Data Management System (WIDM) - Security Issues
WIDM functions and data are available to government employees, external agencies and contractors who have delegated access. The security aspect of the application ensures that roles are granted to individuals for access to one or more functions (select, update, insert, and/or delete). Access to site information and data can also be restricted to the site owners and their designates.
Enter the data base application here.