Water Protection & Sustainability Branch
---
Ground Water
Ground Water Protection Regulation (GWPR)
This document is intended for anyone who owns a private water well. It contains information about:
the standards and requirements set out in the Ground Water Protection Regulation (GWPR),
the responsibilities of well owners under the GWPR, and
how to obtain more information.
Please note, however, that the document is meant as a guide to the GWPR in plain language. In the event of any inconsistency between its wording and the wording of the Ground Water Protection Regulation, the Regulation prevails.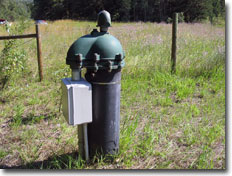 The GWPR deals with aspects of well construction that significantly enhance ground water protection — i.e., installing effective surface seals around wells, securely capping and floodproofing wells, and permanently closing unused wells to protect ground water quality. The GWPR also establishes the qualifications for well drillers and well pump installers and provides for a provincial registry of those possessing the qualifications.
Water Act
In 2001, the legislature approved amendments to the Water Act as part of a broader initiative to improve drinking water protection in British Columbia. These amendments added a new "Part 5" to the Act entitled "Wells and Ground Water Protection". The new provisions took effect on November 1, 2004.
Well Identification Information
Registration of Drillers and Pump Installers
Written Confirmation for Alternative Specifications form (

814kb)
BCGWA Groundwater Protection Handbook (for well drillers and well pump installers) New!
---

Download Adobe Acrobat's reader for free here. This software will enable you to read and print reports that are in "portable document format" (PDF).
---
Our vision is a sustained and healthy ground water resource.