Water Conservation Strategy
Implementing the Strategy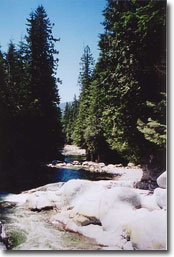 The Water Conservation Strategy for British Columbia is a living document. Priorities will change over time and the Strategy will be implemented in a manner to allow flexibility and adjustment. Implementing the Strategy will require concerted and ongoing efforts from all levels of government and water users. The success of these efforts in influencing significant changes in water supply management will hinge on a high level of co-operation, collaboration, communication and leadership.
An implementation plan for the Strategy will be developed this fall and delivered over the next two to three years. The first step will be to discuss principles, directions and actions with water managers, decision makers and water users. Forums such as the UBCM Annual Convention, the Joint Committee on Agriculture and the Environment, and regional workshops will provide opportunities to discuss strategic directions in greater detail.
5.1 Fostering Partnerships
Responsibility for water management is very fragmented and co-operation is needed among agencies with different jurisdictions in order to adequately address the full range of issues and avoid negative impacts on other jurisdictions.
Partners can achieve more together than can be achieved separately, often resulting in greater efficiencies in service or program delivery. A partnership agreement will be developed among key agencies to carry out strategic directions that require collaboration. Each partner will be asked to contribute resources and hold responsibility for the success of the Strategy.
Partnerships bring different interests and groups of people together to contribute to different aspects of water use efficiency initiatives. Additional partners will be invited to join as partners for water use efficiency.
5.2 Leading and Coordinating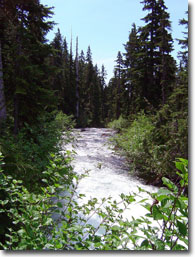 Because water is a common resource, it is vitally important that the Province continue to take a leadership role in fostering, supporting and guiding co-ordinated efforts to address water use efficiency. However, many other agencies and organizations have demonstrated leadership in this field, including numerous local governments and the B.C. Water and Waste Association. Continued leadership and proactive participation in water use efficiency will become increasingly important as the Water Conservation Strategy for British Columbia is implemented.
The Ministry of Environment and the British Columbia Water and Waste Association have led and co-ordinated two province-wide committees: the B.C. Water Conservation Strategy Working Group and the Water Use Efficiency Committee respectively. These committees will join together to provide stronger leadership and co-ordinated efforts to advance water use efficiency. Together, members of this inter-agency committee will develop and conduct an ongoing review progress to revise the Water Conservation Strategy as needed.
An important aspect of leadership is leading by example. Leading by example:
can result in measurable water savings;
promotes water use efficiency through real action;
may increase the availability and affordability of water efficient devices in the local marketplace; and
ensures that government is "walking the talk".
The British Columbia Buildings Corporation has developed a policy on water use efficiency and has installed timers and sensors in selected landscaped areas and sensors in the legislative building urinals. In addition, local government agencies have initiated many in-house programs such as xeriscaping, irrigation, leak detection and repair, fixture retrofit and employee education. The federal, provincial and several local governments, including members of the Water Use Efficiency Committee will continue to provide leadership through in-house programs and will actively encourage other government and utility agencies to develop in-house water use efficiency measures through the development of a water audit support program.
5.3 Targeting Key Areas
Some areas throughout the province will require more attention to water use efficiency measures than others. These include areas where there is a high demand for surface or ground water relative to supply sources, seasonally low or sensitive in-stream flows, water use conflicts, critical fish streams and aquatic habitats, and areas experiencing surface or ground water quality problems.
At the community level, various sectors or types of water use may require special attention. These key areas would be identified as part of comprehensive local water supply and management plans.
5.4 Evaluating and Reporting
An evaluation and reporting program will be developed by the Water Use Efficiency Committee. Evaluations are essential in determining the progress of strategic directions as well as revising the Strategy. Regular reporting will be conducted to share information; document accomplishments and lessons learned; show accountability; and sustain public interest in water supply issues.