Public Safety: Floods, Dikes, Dams, & Droughts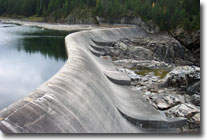 With the diverse range of geography and climate in British Columbia, water availability differs throughout the province, and varies throughout the seasons. Too much water, or too little, can pose a risk to the health of the environment, communities, and the economy.

Resource Stewardship's Water Management Branch is responsible for the dam safety, flood safety, river forecast management programs in B.C. and collaborates with the Provincial Emergency Program to protect public health and safety related to these types of events.