Flood Emergency Management
---
In British Columbia, lives, homes, businesses, property, and infrastructure may be threatened by floods. Whether flooding occurs from sudden, unpredictable heavy storm events or slowly developing events due to run-off from melting snow, being prepared to respond is critical.
Emergency Management BC (EMBC) has the primary responsibility for coordinating flood response.
To report a FLOOD EMERGENCY in British Columbia, please contact EMBC Coordination Centre at 1-800-663-3456.

For up to date information regarding River Advisories and Warnings and the Freshet Flood Risk Advisory, please visit the website for the River Forecast Centre.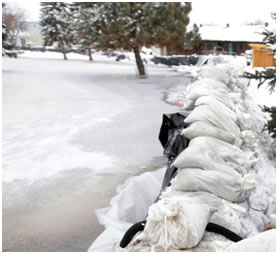 Temporary sandbag dike