Flood Hazard Land Use Management
---
Invitation to Comment:
Flood Hazard Area Land Use Management Guidelines - 2014 Amendment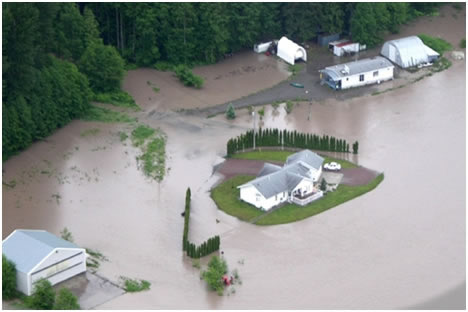 Pemberton, BC
2003



1. Overview

Flooding is a common occurrence in British Columbia and results from various weather events such as heavy rainfall, rain on snow events, snowmelt (freshets), ice jams, debris flows, and tsunamis.

Floodplains are areas that experience periodic flooding from nearby rivers, lakes, streams, and the sea. In British Columbia, floodplains have some of the most fertile soils and flattest terrain, which is why early settlements were established within floodplains. Throughout the years, these settlements along with low lying coastal areas have grown into larger communities and urban centers.


As a result of being located in floodplains, these communities are susceptible to flood damage and have incurred significant economic damages from flooding, most notably during the 1948 and 1972 floods. Each year flooding causes approximately $10 million in damages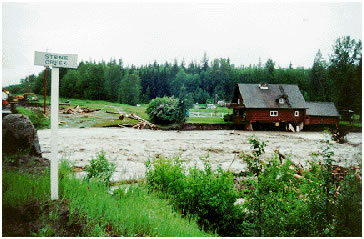 Reducing disruptions and damages from flooding are important concerns for the provincial government and communities within British Columbia. Therefore, the province has created an Integrated Flood Hazard Management Program to minimize flood impacts and increase public safety.

Flood impacts can be reduced by:
Land use management and floodproofing
Engineering works such as dikes and dams,
Emergency preparedness, response and recovery
Even though dikes reduce the risk of flood damage, these structures may weaken and fail over time due to erosion, overtopping, seepage, and/or seismic activity. It is not cost-effective to control the threat of all floods through the construction of dikes and other flood protection measures. Similarly, while emergency preparedness, response and recovery are essential for public safety, these activities may not prevent economic damage or entirely reduce the risk of loss of life and trauma.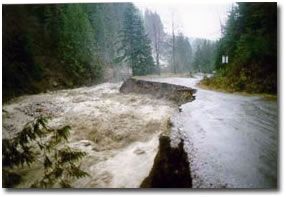 Experience has shown that land use management and floodproofing in areas susceptible to flooding is the most practical and cost effective way to reduce the effect of flooding on lives and property.This approach requires the cooperation of all levels of government, developers, builders, realtors, and the public. Local governments must understand the risks of flooding in their areas and make appropriate land use decisions so that developments are built in a manner that limits flood damage and ensures public safety.

2. Land Use Regulation

In BC, land use is regulated by local governments, provincial approving officers, and provincial land officers responsible for Crown land.
a. Local Governments have the authority to:
i. Develop flood hazard area bylaws without ministry approval, but they must consider ministry policies and guidelines.

ii. Grant flood hazard area land development exemptions provided that the exemptions are consistent with provincial guidelines, or a suitably qualified professional engineer/geoscientist certifies that the area in question can be safely developed for its intended use.

iii. Establish the requirements for subdivision in flood prone areas. These requirements can include engineering reports assessing flood hazards and restrictive covenants. In some cases
b. Ministry of Transportation & Infrastructure Provincial approving officers regulate subdivision development within regional district areas, outside of municipal boundaries. Under Section 86 of the Land Title Act, these officials must consider flood hazards as part of the subdivision approval process.

c. Ministry of Forests, Lands and Natural Resource Operations Provincial land officers manage crown land. These officials must consider the "Flood Hazard Area Land Use Management Guidelines" when selling or leasing crown land.