Dike Management and Safety

---

General Information
1. Dikes in British Columbia

As defined in the Dike Maintenance Act, a dike is an embankment, wall, fill piling, pump, gate, floodbox, pipe, sluice, culvert, canal, ditch, drain, or any other thing that is constructed, assembled, or installed to prevent the flooding of land.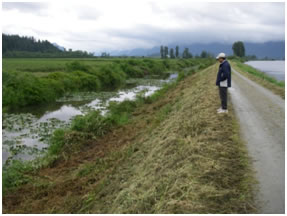 However, from a practical perspective, dikes in BC are works that address major flood hazards. They generally do not include works designed primarily for local drainage and storm water control. Bank erosion protection works are also typically not considered dikes, except where they protect dikes and/or are part of a diking system. Armored berms and other works to control flooding and channel migration on alluvial fans are usually considered to be dikes.





Diking in British Columbia started as early as 1864. Today, there are more than 200 regulated dikes in British Columbia with a total length of over 1100 km protecting 160,000 ha of valuable land.


The Lower Mainland, which has over 50% of British Columbia's population and tens of billions of dollars worth of development in the floodplain is dependent on the integrity of 600 km of diking, 400 floodboxes, and 100 pumpstations.


2. Flooding and Flood Damage



British Columbia settlers found the richest farmlands and the easiest routes for transportation in river valleys. The earliest settlements were established along streams and lakes, often on land that was subject to periodic flooding.
In 1894, the greatest flood on record occurred affecting extensive areas in the southern half of the province. Fortunately, development was still sparse and relatively little damage was caused. Later, as floodplain development continued, dikes were increasingly relied upon to protect these areas.

Alexandra Bridge during the flooding of 1894

British Columbia's second most damaging flood occurred in 1948 when a few dikes failed, resulting in:
several casualties,

the destruction of about 2,000 homes,

the evacuation of 16,000 residents, and
approximately $210 million in damages (value in 2010 dollars).


Recent studies have determined that a reoccurrence of the 1894 flood could cause approximately $1 billion in economic damages to the City of Chilliwack and several billion in economic damages to the City of Richmond. Expected flood damages for all Fraser Valley communities have not been assessed, but the total could be in the order of tens of billions of dollars. These figures emphasize the importance of having properly designed, constructed, and maintained dikes.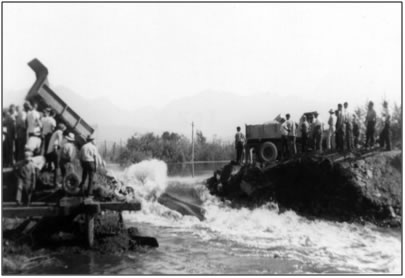 Chilliwack Dike Failure during Flood of 1948
3. Construction, Operation and Maintenance of Dikes

Diking Authorities



There are approximately 105 local governments, diking districts, crown corporations, senior government agencies, and other entities who own and operate public diking systems in British Columbia.

Under common law and in accordance with pertinent legislation and/or agreements, responsibility for operation and the maintenance (including inspection and emergency response) lies with these organizations.

If a new dike is proposed to be constructed in BC, the construction will only be approved if the local government agrees to become the diking authority and become responsible for ownership, operation, and maintenance of the dike.

Orphan Dikes

There are over 100 flood protection works in BC, totaling more than 85 km in length, which are not maintained by a diking authority. As many of these works were constructed under emergency conditions, they generally lack adequate planning and engineering design. Local emergency plans should address any specific risks that may be associated with these works.


Provincial Dike Safety Program

Provincial responsibilities and general supervision relative to the construction and maintenance of dikes lies with the offices of the:
Inspector of Dikes and Deputy Inspectors of Dikes

These responsibilities include:
Administering the Dike Maintenance Act
Setting dike design and maintenance standards and other criteria – promote best management practices
Monitoring and audit management of works by local diking authorities.
Approving changes to dikes and new dikes.
Providing technical expertise for high risk diking issues (e.g. Fraser River design flood profile, sea level rise design guidelines, etc).
4. Flood Protection Legislation

The Ministry of Forests, Lands and Natural Resource Operations is responsible for flood protection legislation in BC, which includes:
Dike Maintenance Act

The Ministry's Inspector and Deputy Inspectors of Dikes have the statutory authority to establish flood protection standards and design criteria, monitor the management of works by diking authorities, and approve new dikes and changes to existing dikes.


Drainage, Ditch and Dike Act

The Ministry is supporting the transition of the assets and responsibilities of five diking districts to local governments prior to the scheduled repeal of the Act in December 2012.


Environmental Management Act

This Act provides the Minister of Forests, Lands and Natural Resource Operations broad powers to establish guidelines, regulations, and flood hazard management plans with respect to flood protection, dikes, and the development of land subject to flooding.


For more information please contact the: Inspector of Dikes