Water Act, Section 9
Approvals and Notifications for "Changes In and About a Stream"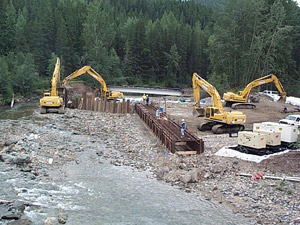 In British Columbia, the ownership of water is vested in the Crown as stated in the Water Act, the primary provincial statute regulating water resources. Under the Water Act, a "stream" is defined as "includes a natural watercourse or source of water supply, whether usually containing water or not, and a lake, river, creek, spring, ravine, swamp and gulch."
Section 9 of the Water Act requires that a person may only make "changes in and about a stream" under an Approval; in accordance with Part 7 of the Water Regulation, including Notification where required; or under a Water Licence or Order.
Under the Water Act, "changes in and about a stream" means
any modification to the nature of the stream including the land, vegetation, natural environment or flow of water within the stream, or
any activity or construction within the stream channel that has or may have an impact on a stream
Approvals
An Approval is a written authorization for changes in and about a stream that are of a complex nature.
Approvals are the responsibility of the Resource Stewardship Division of the Ministry.
The Division's goal is to process Approval applications within 140 days of receipt by FCBC. Though we are committed to making decisions on Approval applications within as short a timeframe as possible once received, depending on the complexity of the circumstances, (e.g. significance of environmental impact, First Nations interests etc.), applications for Approvals can take longer to process than our target timeframe. Where possible, applications should be submitted well in advance to allow for this timeline.
Prior to receiving an Approval the proponent is required to submit an application and fee. In addition, the applicant must also provide all habitat assessments as well as designs and plans for the works needed to determine the effects of the proposal on the legal rights of downstream water licensees. The proponent must also address channel stability, flood levels as well as fish and wildlife resource values as appropriate. An application for an Approval is typically referred to other regulatory agencies such as Ecosystem Branch of the Ministry of Environment and Fisheries and Oceans Canada (DFO) for comment during the adjudication process.
Notifications

Notifications are typically used for works that do not involve any diversion of water, may be completed within a short period of time and will have minimal impact on the environment or third parties.

Notifications are the responsibility of the Ministry of Forests, Lands and Natural Resource Operations (MFLNRO).

Notifications are submitted to FrontCounter BC for review by a Habitat Officer with MFLNRO
A person must not make a change in and about a stream under a Notification unless that person notifies a Habitat Officer within the Region in which the proposed change will be made.

The Habitat Officer will require information specified in the application (Approval or Notification) below, at least 45 days prior to commencing the proposed change. The proponent must also comply with specified terms and conditions for the proposed change from the Habitat Officer.

If the Habitat Officer has not contacted the applicant within 45 days, from the receipt of the application the person may proceed to make the change. However, the requirements of sections 40, 41, 42 43 and 44 of the Water Regulation must be met otherwise the change may be in contravention of the Water Act and subject to penalty offences.

The submission of an incomplete application does not constitute authorization to proceed.
Instream Work Windows
In order to minimize potential impacts that instream work may have on aquatic species and habitats, work should be undertaken during periods of reduced risk to the aquatic resource (Work Windows). As British Columbia has such a rich diversity of species and habitats, windows vary between and within regions. Region specific "Work or Timing Windows" can be found on the Environmental Stewardship Division's Regional Timing Window Web pages. Or simply click on the region where you propose to carry out the work from the list below.
Work or Timing Windows (Terms and Conditions) by Region
Work may occur outside of the Work Window; however, special precautions prescribed by provincial Habitat Officers or DFO biologists must be followed.
How to Apply for an Approval or Submit a Notification
A person must submit an application for an Approval or Notification, under the provincial Water Act, prior to starting proposed changes in and about a stream. Applications should be submitted to the FrontCounterBC office located nearest to the proposed work.
FrontCounter BC provides referrals on all applications filed under the Water Act to agencies and First Nations on behalf of the Ministry of Forests, Lands and Natural Resource Operations. As a result of the referral process there may be a delay in the adjudication of your proposal. Please contact FrontCounter BC if you have questions regarding the referral process.
In addition to meeting provincial requirements, those who are contemplating undertaking work near water should also use the Working Near Water web site maintained by the Federal Department of Fisheries and Oceans (DFO) to determine whether a DFO authorization will be required. Additional information regarding DFO is provided at the bottom of this page.


It is recommended that all applications for authorizations be made well in advance of the anticipated construction period to ensure the proponent allows sufficient time to address any terms and conditions that may be required.
Information on the Notification and Approval processes and assistance in the preparation and submission procedures for a particular application can be found in the Users' Guide to Working In and Around Water. [

400kb]
For many types of proposed works, most of the relevant standards and best practices can be found at Standards and Best Practices for Instream Works.
Additional regional requirements such as terms and conditions and guidance material and useful local information are located on regional Environmental Stewardship Divisions web page. Additional terms and conditions related to the protection of habitat may also be specified by a Habitat Officer on a site specific basis.
South Coast guidance for approval applications in the South Coast Region is available for optional reference. South Coast Approval Guidelines, Feb. 2013 (

193kb)

Application Packages (Approval and Notification Forms)

2015
From Paper To Electronic
Applications for Changes In and About a Stream Approvals and Notifications are now on line.

Electronic Water Application





For information or assistance with applications for water authorizations,
please contact the FrontCounterBC office in your area.

Please note: Applications for Water Act Section 9 - Changes In and About a Stream will be exclusively web based starting June 8, 2015. The application includes a guide that will help clients prepare a successful application. Paper based application forms are no longer being accepted.
Emergencies
During a flood emergency, when there exists a potential danger to life or property, a Notification or an Approval is not required for the following:
the construction or placement of erosion protection works or flood protection works, when an emergency is declared under the Emergency Program Act ; and
the clearing of an obstruction from a bridge or culvert.
However, the work must be conducted by a provincial government agency, or its agents, or by a municipality. The exemption does not apply to work associated with flood damage restoration.
The Ministry of Forests, Lands and Natural Resource Operations should be informed of potential changes to water sources prior to the commencement of work.
However, under section 40 of the Water Regulation those conducting the emergency flood work must:
within 72 hours report the change to a habitat officer, and
take the measures the engineer specifies and comply with the terms and conditions described in section 42 that a habitat officer specifies respecting the change.
Works That Do Not Require an Approval or Notification
Under section 44 (2) of the Water Regulation, an Approval or Notification is not required for instream works related to forest activities where a standard or regulation exists under the Forest and Range Practices Act of British Columbia. This is provided that the change is made by a municipality or person who:
holds an agreement or road use permit under the Forest Act, an agreement under the Range Act, or a special use permit under the Forest Practices Code of British Columbia Act, or
is authorized to construct or modify a road under the Coal Act, the Geothermal Resources Act, the Mines Act, the Mining Right of Way Act or the Petroleum and Natural Gas Act.
Under section 44 (3) of the Water Regulation a change may also be made in and about a stream by a person who holds a permit under section 10 of the Mines Act, without obtaining an Approval or Notification, if the person complies with:
Part 11 of the Health, Safety and Reclamation Code for Mines in British Columbia, and
All conditions in the permit respecting changes in and about a stream.
Requirements of Department of Fisheries and Oceans Canada (DFO)
The DFO has developed Working Near Water to assist those who plan to undertake projects in and around water comply with the federal Fisheries Act and in particular the maintenance of Fish Habitat.
The web site outlines the DFO regulatory review process for work in and around water, and provides step wise instructions for the public on navigating the federal DFO review, approval and authorization process. It also directs clients to project planning and design resources to assist them in developing their projects in a manner that will conserve or protect fish habitat.

DFO has developed a process, similar to Water Regulation Notifications, for activities that have a low risk to fish habitat. As part of this new approach, DFO provides upfront guidance on mitigation measures that are required to avoid a Harmful Alteration, Disruption or Destruction of fish habitat (HADD). For those activities which meet this criteria, a DFO review or authorization may not be required provided that the standard mitigation measures are followed. For works that may result in a HADD, an authorization from DFO is required.

Where there is a risk that proposed work near water may have an adverse effect to fish and/or fish habitat a Project Review Application Form (PRAF) is required by DFO. The PRAF provides information that DFO needs to conduct a project review and to assess the potential for adverse impacts.

DFO has also published a brochure Complying with the Fisheries Act and other relevant information regarding fish habitat protection. DFO also provides details on complying with the federal Fisheries Act on their web site; refer to Part A: Ensuring Fish for the Future and Part B: Habitat Protection and Pollution Prevention Provisions.

To obtain copies of DFO documents and further information on federal fish protection requirements also view the Pacific Region Operational Statements