Air Quality Health Index - What's the Air Like Today?
Find the current and forecast Air Quality Health Index (AQHI) values to help you understand what the air quality around you means to your health.
View Current Air Monitoring Station Data
View a list of air monitoring stations or use our interactive map below to view current air quality data in your area.
Disclaimer
Air quality data may be missing for many reasons that are beyond our control including local power or communications outages, instrument calibration cycles or failure. Data found on this web site is accessible in raw form before all quality assurance reviews are complete. This data is preliminary and is subject to change during the review process. Read more about our data and licensing agreement.
---
Additional Resources
New National app from the Government of Alberta for mobile platform.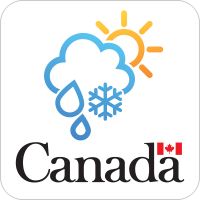 Receive weather alert notifications in your area, as well as in your saved locations, wherever you are in Canada. Get your latest forecast information directly from Canada's official weather source.
---
If you have a comment or concern about the air quality content on this website please contact us.
---
NOTE: Kelowna College
The Kelowna College monitoring station in Kelowna, BC has been shut down and is in the process of being relocated to a new site in the city. A temporary monitoring station (Kelowna Raymer Ave WWTP) has been deployed to report on fine particulate (PM2.5) while the relocation proceeds. The AQHI for Central Okanagan will be based on data from the Kelowna WWTP station supplemented by data from the Vernon Science Centre monitoring station.
Data
By accessing these datasets, you agree to the license associated with each file, as indicated in parentheses below.