Aquifer Classification Mapping, 1997
Background
Increasing use and quality degradation of the province's water resources, combined with the need for integrated management require more cost-effective ways to inventory, manage, and protect the water resource, including ground water. A map-based aquifer classification system has been developed for the Ministry of Environment, Lands and Parks' (now Ministry of Environment) Water Management Program to identify and categorize aquifers using data from the provincial water well database (Kreye et al, 1994). The objective of aquifer classification is to inventory and prioritize aquifers for planning, management and protection of the Province's ground water resource. Aquifers are classified according to their level of ground water use and vulnerability to contamination and are mapped on 1:20,000 and1:50,000 scale mapsheets. Uses of the aquifer classification maps include:
guiding Water Management Program activities in prioritized areas,
assisting in water resources planning and sub-regional planning,
providing a hydrogeologic framework for more site-specific planning and investigations, and
enhancing awareness and consideration of the ground water resource in land use planning.
"We (Water Management Program) will inevitably manage on a priority basis, therefore a means of classifying aquifers is essential."
- J. S. Mattison, Director, Hydrology Branch (1991-1996)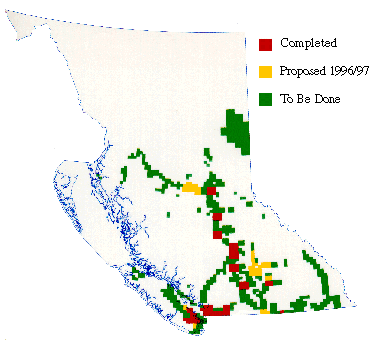 Progress of Aquifer Classification Mapping
Currently, aquifer classification mapping is being applied to prioritized areas of the Province with funding from the Corporate Resources Inventory Initiative (CRII). In previous years this was funded in partnership with the Fraser River Action Plan (FRAP). Results of mapping to-date indicate:
over 300 aquifers have been identified, delineated, and classified,
approximately 90% of the aquifers are used for drinking water,
approximately 7% of the aquifers are heavily utilized,
approximately 30% of the aquifers are highly vulnerable to contamination, and
approximately 12% of the aquifers have documented health-related quality and / or quantity concerns.
Forty-eight 1:50,000 mapsheets have been completed in the last four years. The work is very cost-effective, averaging $600 per aquifer.
Proposed for 1997 / 98
Aquifer classification mapping under CRII continues this year in the Okanagan-Shuswap region where development has been intensive. GIS based aquifer classification maps are to be produced in 1998 for distribution to other agencies and local governments.
Guidelines for use of aquifer classification maps will also be developed under CRII to assist resource decision-makers on appropriate use of the maps to more effectively manage and protect the water resource.
A database containing information on the aquifers that have been classified has been developed.
Further Information
For more information on the map-based aquifer classification system, consult the referenced paper.
References
Kreye, R., Ronneseth K., and Wei, M., 1994. An Aquifer Classification System for Ground Water Management in British Columbia. In Proceedings, 6th National Drinking Water Conference, Victoria, B.C.