Current Air Quality Data Map for PM2.5
View the latest hourly PM 2.5 (Fine Particulate Matter) data.
Instructions
Navigate: Use your mouse to click and drag the map to a desired location
Zoom in to view stations: Use the + and - buttons on the top left of the map to increase or decrease the magnification size of the map
View station data: All circles represent an air monitoring stations. Click on a circle to view that station's data.
Reset Map: Use the Home Button to reset the map.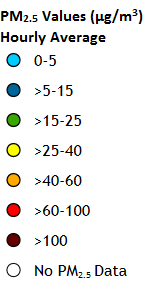 ---
Station Summary Tip
Click on the white triangle to see the next station summary data.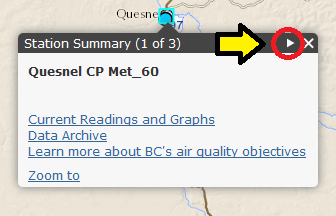 ---
Objective:
The maximum acceptable level for PM2.5 is: 25 µg/m3 (micrograms per cubic metre) over a 24 hour average period.
Read more about the province's Air Quality Objectives and Standards.
---
Abbreviations
PM2.5 = fine particles with a diameter of 2.5 microns (millionths of a metre)
PM10 = small particles with a diameter of 10 microns
O3 = ozone
NO2 = nitrogen dioxide
SO2 = sulphur dioxide
ppb = parts per billion
ppm = parts per million
µg/m3 = micrograms per cubic metre
N/A = Readings are monitored but are not available at this time.
More Information
There are more ways to find an air monitoring station and it's latest data.
Data Source:
By accessing these datasets, you agree to the license associated with each file, as indicated in parentheses below.
Disclaimer:
Data found on this web site is accessible in raw form before all quality assurance reviews are complete. This data is preliminary and is subject to change during the review process.
Missing Data and Instrument Calibration
It is normal for one hour per day to be missing from the displayed readings for all gas parameters. We schedule automated instrument checks for these periods to help ensure proper operation of the monitoring equipment.