Peace Region Wildlife
---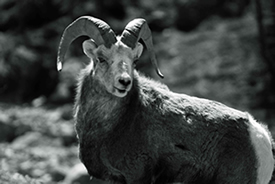 The Provincial Fish and Wildlife Branch and regional staff establish legislation, policies and procedures for managing fishing and hunting activities, and for the allocation of fish and wildlife resources for recreational and commercial use.
Wildlife Management Programs endeavor to maintain and manage wildlife, habitat and sustainable uses and keep a balance between human use of wildlife and conservation by:
administering the Wildlife Act of British Columbia
preparing Wildlife Program regulations in consultation with regions and others, including hunting and trapping regulations (hunting and trapping information). Public consultation contributes to any changes to regulations, and comments are being sought on the proposed changes for the 2010-11 season.
managing the Guide Industry to ensure compliance and optimum use of resources
administering process for licences and permits and reviewing, advising and recommending fee structure and levels for licences and permits [The Wildlife Act Permit Regulation - an Introduction (brochure)]
collecting and analyzing hunter and harvest data
Compulsory Inspection locations - Region 7B (Peace)
For general information, Fort St. John regional office telephone: 250 787-3411
Contract CI Inspectors:

Fort St. John
Contact: Basil Szoo
Telephone: 250 785-3468

Pouce Coupe
Contact: Peter Bruhs
Telephone: 250 786-7961

Fort Nelson
Fort Nelson Forest District
Building Address:
6100 Alaska Highway
Fort Nelson, BC V0C 1R0
Telephone: (250) 774-5511
Facsimile: (250) 774-3704
E-mail: Forests.FortNelsonDistrictOffice@gov.bc.ca

Compulsory Inspection Procedures – Fort Nelson location
Inspections must be scheduled ahead of time. Drop-ins may be asked to schedule an appointment and return at that time.
Inspections will be scheduled at the discretion of the inspector, but will be during regular office hours (8:30am – 12:00pm and 1:00pm – 4:00pm).
Animals will be inspected without the hunter present. You may choose to wait in the office lobby, at the picnic tables at the back of the office or return after the inspection has been completed. Inspections should take approximately 30 minutes per animal.
There will be an opportunity to discuss the inspection with the inspector once it has been completed.