Introduction
Implicit within the mandate of the Ministry is a role for monitoring and reporting on the condition of the province's air, water, land, fish & wildlife species, and the effectiveness of regulatory mechanisms to protect them. Simultaneously, the Ministry is moving toward an environmental management model of shared stewardship, based on tracking environmental standards rather than prescribing rules. The ability to monitor and report on the environment in a manner that is ecologically relevant, scientifically credible, and cost-effective has never been more important.
The Omineca Region Ecosystems Section plays a role in the following three types of Monitoring:
Compliance Monitoring
Compliance monitoring measures performance against some environmental standard required by law, and may include audits, assessments, and reviews. Compliance monitoring entails ensuring operational alignment with the Ministry's legislation, regulations, and policies. Compliance with legal environmental regulations is central to the Province's commitment to a clean, healthy and naturally diverse environment that enriches people's lives, now and in the future.
The movement to results-based environmental performance requires alternative and continuously improving approaches to compliance, and less dependence on the more traditional enforcement approach to compliance.
The Omineca Ecosystems Section participates on an inter-divisional Compliance Committee that facilitates communication, cooperation, and teamwork among divisions, regions, Victoria, other ministries and governments, and partners on all compliance-related issues.
In 2000 & 2001, Ecosystems staff assessed approximately 60 culverts throughout the Prince George Timber Supply Area, checking indicators of fish passage, and compliance with the stream crossing standards of the day. The specific results of this assessment project have been shared with the forest licensees whose culverts were part of the project, and with the Ministry's project partners, including Ministry of Forests and Department of Fisheries and Oceans. Due to the quantity and nature of problems detected from this initial assessment work, the Ministry will focus its efforts in the future on the issue of maintaining fish passage at stream crossings.
The Omineca Ecosystems Section will do more compliance monitoring. We are specifically asking the question: " Have a sample of individual closed bottom structures installed on high risk fish bearing streams between 1995 and 2003 been installed and maintained in a manner that ensures fish passage for all life stages of fish?" This project pertains to compliance under the Forest Practices Code, and to Forest and Range Practices legislation requirements for stream crossing installations completed and maintained since June 1995.
Study Areas
Study areas for this compliance monitoring project will include the north portion of the Willow River Watershed, northwest portion of the Parsnip watershed, the Herrick watershed, the Upper Torpy, and the Mackenzie Forest District portion of the Nation watershed. These five study areas have been chosen because they generally:
Contain high fish values
Have not been subject to previous fish passage assessments by the Ministry
Are logistically achievable
Will represent a diversity of licensees
Effectiveness Monitoring
Effectiveness monitoring measures environmental condition in the context of a program, policy, plan, or activity, to gauge progress toward its desired outcomes or effects.
There is an important distinction between compliance and effectiveness. Compliance monitoring addresses whether people are complying with environmental standards (e.g., is a forest licensee retaining a riparian buffer as required?). Effectiveness monitoring attempts to uncover whether those standards are having an effect in the environment (e.g., does the buffer retain the ecological character of the riparian area?)
Biodiversity Monitoring
Biodiversity is the diversity of plants, animals, and other living organisms in all their levels of organization, including the diversity of genes, species, and ecosystems, as well as the evolutionary and functional processes that link them.
The Omineca region participates in provincial biodiversity monitoring & reporting working groups, with the vision of informing and improving policy and practices for ecosystem conservation and management that affect biodiversity in B.C. This vision will be achieved through:
Collecting, analyzing, and interpreting science-based information over time and across the province at a range of scales.
Providing resultant information to decision-makers, practitioners, other stakeholders and the public.
Partnering with a coordinated network of public and private stewards.
This figure shows the Biodiversity Monitoring & Reporting Strategy Framework goals. Goals 1,2, and 3 represent different monitoring and reporting business needs, while Goals 4,5, and 6 provide important support functions for those business needs.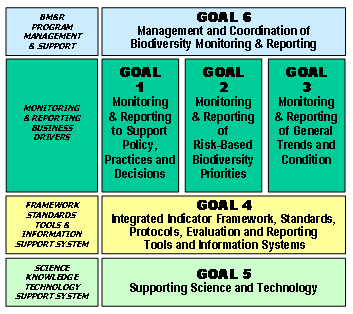 A number of projects that fit within the umbrella of Biodiversity Monitoring & Reporting have been completed and continue to run within the Omineca region. For details on specific regional projects that involve biodiversity monitoring, see the Fisheries and Wildlife pages.