Kootenay Region Environmental Stewardship Division
---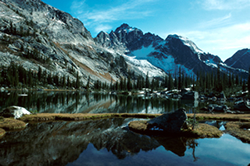 The Kootenay Region encompasses the southeast corner of British Columbia and consists of the Columbia Mountains (Purcell, Selkirk and Monashee Mountains) and the Rocky Mountains. Steep rugged peaks with fast-flowing rivers and long narrow lakes dominate the landscape. The Rocky Mountain Trench divides the Columbia from the Rocky Mountains, and extends 1600 km from Flathead Lake, Montana to the British Columbia-Yukon border. The Kootenay Region supports a variety of wildlife and fish species such as Elk, Bighorn Sheep, Caribou, Grizzly Bear, White Sturgeon, Westslope Cutthroat and Bull Trout.
Typical of the southern interior of B.C., Kootenay Region is home to numerous rare and endangered species that acutely require conservation attention. Some species currently occurring only in Kootenay Region include the Rocky Mountain Tailed Frog, the Northern Leopard Frog, and the southern maiden-hair fern as well as several small mammals like the Northern Pocket Gopher and two subspecies of Least Chipmunk. The region includes 62 provincial parks, 6 ecological reserves, and 2 protected areas, totaling 581,933 hectares or 13% of the Kootenay Region.
Outdoor recreation opportunities include camping, hiking, cross-country skiing, ski-touring and snowmobiling. The region is well known for world class hunting, supporting the highest recreational participation in Elk and bighorn sheep hunting in the province. Recreational fishing is also world class based on small lake and river fishing for Bull Trout and Westslope Cutthroat in the East Kootenay and on large lake fishing in Kootenay Lake in the West Kootenay where you can fish for the largest strain of Rainbow Trout in the world, the Gerrard Rainbow Trout. Predominant industries include forestry, mining, tourism, agriculture and hydroelectric generation.
Ministry of Environment staff in the Cranbrook, Nelson, Invermere and Revelstoke offices work to conserve biodiversity, maintain and enhance native ecosystems, encourage outdoor recreation, and provide social and economic benefits in accordance with the Ministry's Service Plan.