(published 1998)
Habitat Atlas for Wildlife at Risk
About Species at Risk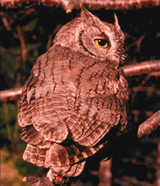 The Okanagan is not only noted for the diversity and uniqueness of its plant and animal species, it is also the region with the most endangered, threatened and rare species in the province. The South Okanagan is home to 30 percent of BC's Red-listed wildlife species, and 46 percent of the province's Blue-listed species.
Endangered Species Legislation
Whether they occur on public or private, or forest lands, wildlife, as prescribed under the Wildlife Act of B.C., is considered a Crown resource and responsibility of the provincial government. In the past wildlife managers concentrated on fish and game populations. The Wildlife Act directs the Ministry of Water, Land and Air Protection, Lands and Parks to protect and conserve all wildlife species in the province and the Forest Practices Code directs District Forest Managers to protect Identified Wildlife.

In 1980 four species were designated as Endangered under the Wildlife Act of British Columbia: the Vancouver Island Marmot, Sea Otter, American White Pelican and Burrowing Owl. No animals have been added to the list. Once a species is designated as endangered it is at a critical point of population decline or no longer breeds in its former range within our province.
Wildlife managers have concluded that the most effective way to "save" species is to conserve their habitat and develop strategies for their protection before they reach an endangered status. Protection for animals that are endangered or at risk will only be achieved through a combination of legislation, regional conservation initiatives, public awareness, and community stewardship.
Ranking Species at Risk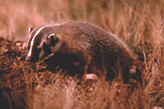 Wildlife managers have classified the degree to which animal species are at risk so that they can prioritize their conservation efforts. Each vertebrate species in the province is ranked using a system developed over the past 25 years by the Nature Conservancy of the United States. Each species is ranked at two levels: global and provincial. The global rank is based on the status of the species throughout its entire range, whereas the provincial rank is based on its status within British Columbia.
Committee on the Status of Endangered Wildlife in Canada (COSEWIC): ranks the global status of plants and vertebrate animals based on research and status reports. www.speciesatrisk.gc.ca
British Columbia Conservation Data Centre (CDC): this program within the Ministry of Water, Land and Air Protection, Lands and Parks compiles information on the status of provincially rare plants, plant communities, and animals. http://www.env.gov.bc.ca/cdc/
How Is A Species Designated "At Risk"
The status of a species is indicated on a scale of one to five; the score is based on the number of occurrences of the species, abundance, range, protection, and threats.
Critically imperiled because of extreme rarity or factors making it especially vulnerable to extirpation or extinction
Imperiled because of rarity or factors making it vulnerable to extirpation or extinction
Rare or uncommon; may be susceptible to large-scale disturbances
Frequent to common; apparently secure but may have a restricted distribution; or there may be perceived future threats
Common to very common
Since 1992, the Red and Blue Lists have been developed using the international ranking system used by the B.C. Conservation Data Centre. Species that breed in the province ranking 1 or 2 are placed on the Red List and those ranking between 2-3, 3 or 3-4 are placed on the Blue List. Blue-listed species are at a lower level of risk than Red-listed species.
Not all Red and Blue-listed wildlife will necessarily become formally designated. Placing species on these lists flags them as being potentially at risk and requiring investigation and protection.
The South Okanagan is home to 30 percent of B.C.'s Red-listed wildlife species, and 46 percent of the province's Blue-listed species.
Extirpated species no longer occur in the wild in British Columbia but occur elsewhere.
Endangered species are facing imminent extinction or extirpation.
Threatened species are likely to become endangered if factors affecting them are not dealt with and trends reversed.
Vulnerable species are of concern because of characteristics that make them particularly sensitive to human activity or natural events.
Missing from the South Okanagan!!
Six vertebrate species that once lived in the South Okanagan - the Pigmy Short-horned Lizard, White-tailed Jackrabbit, Burrowing Owl, Northern Leopard Frog, Sharp-tailed Grouse, and Sage Grouse - have disappeared from the region.
Click here to view Red and Blue listed species for the South Okanagan.