(published 1998)
Habitat Atlas for Wildlife at Risk
Species Profiles
The atlas profiles thirty-two Red- and Blue-listed species and their habitats in the South Okanagan and Lower Similkameen valleys. Recent advances in computer generated mapping, such as Geographic Information Systems, have made it possible to model habitat use patterns of wildlife species. Detailed ecosystem maps are combined with data on an animal's breeding, nesting, feeding, migration and hibernation requirements to produce Habitat Suitability Maps.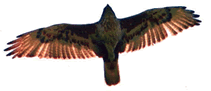 Habitat suitability is the ability of the habitat in its current condition to provide for the habitat requirements of a species. Wildlife habitat suitability models were developed for 30 regionally important wildlife species using Terrestrial Ecosystem Mapping (TEM).
| | | |
| --- | --- | --- |
| Amphibians & Reptiles | Birds | Mammals |
| | | |
(Several Red and Blue-listed species that occur in the area are not included in the atlas. They are either species that only rarely occur here in migration, no longer occur in the Okanagan region, or so little is known about their habitat requirements that conservation measures are difficult to prescribe.)

Map Information

Breeding habitat, or the most important habitat is listed first. If breeding and foraging habitat overlap, breeding habitat is shown first.

Living habitat includes breeding and foraging in one category in cases where there is no difference in the habitat requirements.

Wildlife habitat models profile habitat that is able to support a particular species. However, the species may not actually occur there at present. The habitat maps identify where species are likely to occur and which areas are the most important to conduct inventories, environmental impact assessments, and habitat enhancement projects.

Each map has a land tenure chart showing land ownership of habitat.

In this example, 6% of Spadefoot Toad habitat is protected in conservation holdings (parks or wildlife areas), 26% occurs on Provincial Crown land, 29% on Indian Reserves, and 39% on privately owned land.
Land Tenure
Great Basin Spadefoot
Conservation Land - 3,489 ha. - 6%
Crown Land - 14,951 ha. - 26%
Indian Reserve - 16,689 ha. - 29%
Private Land - 22,977 ha. - 39%
Methods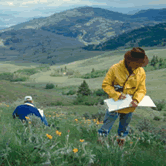 Wildlife habitat suitability has been modeled by interpreting the ecosystem features included in Terrestrial Ecosystem Mapping (soil, ground cover plants, trees or shrubs, terrain) in terms of the probable use of those features by an animal. Critical life requirements of a species can include habitat needs for breeding or nesting, escape, security cover, and feeding activities. By defining the relationships between ecosystems and a species' requirements, habitat attributes are identified that are important to the species. The key habitat attributes are assigned habitat use values which are then related to the map units to develop the species habitat profile. The localities that are ranked the highest, identify the highest quality habitat for a particular life requirement (such as nesting habitat). However, the high quality habitats alone will likely not sustain the wildlife population or species through time, therefore lower quality habitat is also identified.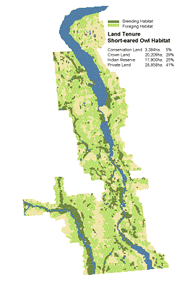 The maps produced for the Habitat Atlas have identified high and moderate quality habitat for each species. High quality habitat implies that the habitat is within 75 to 100 percent of the best habitat for the species in the province. Moderate quality habitat indicates that the habitat is within 25 to 75 percent of the best habitat in the province. Moderate quality habitat is important to many species since the amount of high quality habitat remaining is limited in the two valleys.

Limitations of the Maps

Terrestrial Ecosystem Mapping has been mapped at a 1:20,000 scale. Many habitat attributes, such as small patches of isolated vegetation, cannot be identified at this scale of mapping.

Riparian habitats, which are narrow strips of vegetation located along the edges of streams, ponds or lakes, cannot be mapped at a 1:20,000 scale. Therefore species that rely on this ecosystem cannot be mapped accurately with the TEM. Other more sedentary species also rely for survival on micro-scale habitat attributes not identified in TEM, such as pockets of particular soil types.

The habitat maps are not an indication of the presence of a species. As an example, Short-eared Owl habitat extends over 44 percent of the South Okanagan and Lower Similkameen area, but this species rarely breeds in the South Okanagan and is only occasionally sighted. Breeding habitat is a more accurate representation of critical habitat areas for many species.

Due to the limitations of web site graphics, the quality and size of the habitat maps for each species is poor. Please refer to the Habitat Atlas for Wildlife at Risk publication for higher resolution maps. (See Contact Information)