(published 1998)
Habitat Atlas for Wildlife at Risk
Introduction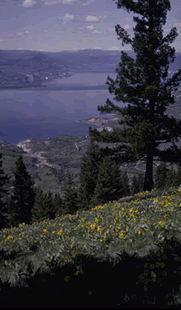 The South Okanagan Valley is a special place in Canada. Its hot, dry summers, mild winters, beautiful lakes and bountiful agricultural lands make it an ideal place for human settlement. These characteristics have also shaped an ecosystem unique in the nation, an ecosystem now threatened by the human settlement it attracts. The dry grasslands and open pine forests of the South Okanagan are one of the four most endangered ecosystems in Canada.
The South Okanagan Lower Similkameen Habitat Atlas for Wildlife at Risk is an initiative of the Ministry of Water, Land and Air Protection Lands and Parks, Penticton Office. The atlas and the web site is designed to provide information on wildlife at risk and their habitats in the South Okanagan.
The atlas focuses on 32 species considered "at risk" in the South Okanagan and Lower Similkameen and designated by the provincial government as candidates for endangered, threatened or vulnerable status.
Conservation Strategies outlines opportunities we have for the South Okanagan concentrates on the opportunities we have for conservation and stewardship on public and private land, from provincial conservation initiatives, to land use regulations, community stewardship, and efforts by individual landowners.
What makes the South Okanagan a Special Area?