(published 1998)
Habitat Atlas for Wildlife at Risk
A Conservation Strategy for the South Okanagan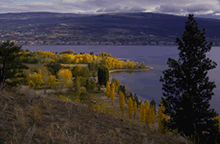 It is said that once an area is developed, it never returns to its natural state. Because habitat loss and fragmentation is the major cause of wildlife population decline, preserving and protecting wildlife habitat is now the focus of regional and provincial conservation efforts.
Tools for Conservation
Identify core areas to protect; increase parks and protected areas
Use land use planning and zoning to enhance and preserve corridors, and buffer areas around core protected areas
Integrate wildlife habitat concerns into community planning processes
Encourage land stewardship to maintain and enhance wildlife habitat on private land and Indian Reserves
Increase public awareness of wildlife species at risk and their habitat needs
" We have a responsibility to conserve a high percentage of species at risk in British Columbia and Canada. We are uniquely positioned to protect some of the most important grasslands in the province. A functional protected areas network with core protected areas and appropriate landscape linkages and altitudinal corridors can fortunately still be put in place. In a few years it may be too late."
Dr. Geoff Scudder
Professor of Zoology
University of British Columbia