(published 1998)
Habitat Atlas for Wildlife at Risk
Grassland Ecosystems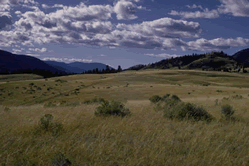 Grasslands, or steppes, are ecosystems dominated by perennial grasses with scattered shrubs and a soil crust of lichens and mosses. South Okanagan grasslands are divided into two broad ecosystems: bunchgrass and shrub-steppe. The shrub-steppe grasslands occur in the hottest and driest environments of the valley bottoms, and are further divided into sagebrush steppe and antelope-brush steppe. All of these different habitats have their own animal specialists, but they also share many species between them.
One of the most critically endangered plant communities in Canada is the Antelope-brush grassland found mainly on the east side of the Okanagan Valley north to Skaha Lake. Less than 40 percent of this habitat now remains in the South Okanagan. Recent large-scale land clearing for vineyards continues to reduce the small amount remaining.
Grasslands, which cover 27 percent of the South Okanagan and Lower Similkameen, have been heavily impacted by livestock grazing, agriculture, and urban development. Poor cattle grazing practices in the early part of the Twentieth Century badly degraded grasslands. Although the grasslands are in better condition today, good range management practices are needed to maintain this improving trend. Weeds pose another threat to the integrity of grasslands, colonizing disturbed sites and dispersing to surrounding areas.
More than half (31 out of 57) of the Red and Blue-listed species in the South Okanagan and Lower Similkameen are associated with grasslands. Twelve of 35 rare plant communities are also associated with grasslands. Many insect species unique to the Okanagan in Canada are grassland specialists. All of the vertebrate species that have disappeared from the this area in the last century were grassland species: pigmy short-horned lizard, white-tailed jackrabbit, Sage Grouse, Sharp-tailed Grouse, and Burrowing Owl.
Antelope-brush Habitat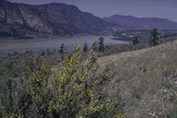 Less than 40 percent of the rare antelope-brush (Purshia tridentata, bitterbrush or greasewood) habitat now remains in the South Okanagan; it is not found in the Similkameen and almost none occurs north of Skaha Lake. Recent large-scale land clearing of this habitat for vineyards continues to erode the small amount remaining. In the South Okanagan, less than 5 percent of grassland ecosystems are protected in some form; another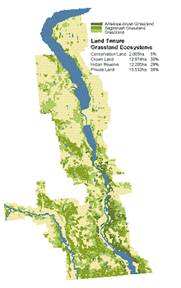 30 percent is on Crown land. Most of the remaining undeveloped grassland is on Indian Reserves (29 percent) or private lands (36 percent).
Threats:
Low elevation grasslands are subject to development pressure from the expanding population and rapidly growing wine industry.
The remaining grasslands are fragmented and may suffer from loss of species along their borders (edge effect) due to disturbance from adjacent developed areas.
Some grassland areas have been cleared of shrubs and burned for "improvement."
Weed invasion and off-road vehicle activity can further degrade this ecosystem.
Grasslands take a long time to recover from disturbance due to slow plant growth and high soil sensitivity.
Grassland Wildlife at Risk:
Red List

Brewer's Sparrow
Burrowing Owl
Ferruginous Hawk
Grasshopper Sparrow
Prairie Falcon
Sage Thrasher
Lark Sparrow
Pallid Bat
Badger
Western Harvest Mouse

Blue List

Gopher Snake
Western Rattlesnake
Racer
Lark Sparrow
Long-billed Curlew
Swainson's Hawk
California Bighorn Sheep
Great Basin Pocket Mouse
Nuttall's Cottontail