Habitat Atlas for Wildlife at Risk
Lark Sparrow
Chondestes grammacus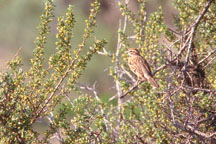 Lark Sparrow
Length: 14-16 cm.
Single dark central breast spot and bold, quail-like head pattern, with a chestnut ear patch and striped crown.
Black tail with distinctive white borders and corners.
Loud, varied song.
Status:
British Columbia Red List
Special Significance
The Lark Sparrow is a distinctive summer resident in the lower elevation grasslands of the Okanagan Valley and is common only in the few remaining tracts of antelope-brush. British Columbia populations have presumably decreased because of the loss of shrub-grassland habitats. The remaining dry shrub-grasslands must be properly managed and maintained to provide the habitat these birds require. Improving the condition of rangeland to provide tall, healthy bunchgrasses and low shrub density should be a priority for habitat preservation. To help ensure the survival of Lark Sparrows, further detailed information is required on their habitat requirements.
Distribution
Lark Sparrows are widely distributed in the Southern Interior of British Columbia, but the vast majority of the provincial population is in the Okanagan Valley south of Penticton and the Similkameen Valley southeast of Keremeos; a few breeding records from Vernon and Shuswap Lake area.
Elevational range is generally below 750 metres, though it may occur up to 1200 metres.
Habitat
Prefer areas with tall shrubs mixed with open grassland; antelope-brush rangelands are the preferred habitat in British Columbia, especially those on the east side of the Okanagan Valley from Skaha Lake south to Osoyoos.
Nests are placed on the ground concealed by shrubs or grass clumps.
Reproduction
Birds arrive early- to mid-May.
Four eggs are usually laid and nesting occurs from mid-May to early July.
Young birds may fledge as early as second week of June.
Food Habits
Lark Sparrows consume a variety of seeds and insects such as grasshoppers and crickets.
Interesting Facts
Males court the females by strutting on the ground like a turkey cock, with wings trailing and tail spread showing white feathers, and bubbling fragments of song.
Birds sing in flight as well as on the ground; the loud, warbling song gives the species its name.
Threats
Loss of low elevation grasslands due to urban development.
Use of insecticides and herbicides could be directly harmful or reduce prey.
Management Considerations
Preserve sections of remaining low elevation, dry shrub-grasslands.
Employ land management practices which encourage the growth of healthy native grassland plants.
Protect known nest sites from human disturbance.
Seed rangelands with native grasses whenever possible.
Carefully monitor and reduce use of pesticides.
References
1. Shepard, M.G. 1995. Draft. Status Report on the Lark Sparrow (Chondestes grammacus) in British Columbia. Ministry of Water, Land and Air Protection Lands and Parks, Victoria, British Columbia.
2. Cannings, R.A., R.J. Cannings and S.G. Cannings. 1987. Birds of the Okanagan Valley, British Columbia. Royal British Columbia Museum, Victoria, BC.