(published 1998)
Habitat Atlas for Wildlife at Risk
Identify Important Wildlife Habitat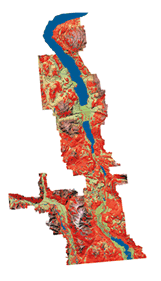 The major threat to wildlife is the permanent loss or degradation of habitat. The B.C. Environment Wildlife Program has limited authority to manage and protect wildlife habitat on private land. The Program performs this function primarily by identifying the habitat needs of wildlife and then conveying this information to agencies that have control over habitat.
The composite wildlife at risk habitat map identifies suitable habitat for wildlife management and conservation. The red-shaded area indicates land that is within 75-100 percent of the best habitat in British Columbia for all Red-listed wildlife species in the South Okanagan and Lower Similkameen.
This map can be used to identify important wildlife habitats for Official Community Plans and other land use planning initiatives.
Red-listed Species Included in the High-Priority Habitat Map
Tiger Salamander
Night Snake
Brewer's Sparrow
Grasshopper Sparrow
Lark Sparrow
Prairie Falcon
Sage Thrasher
Yellow-breasted Chat
White-headed Woodpecker
Western Screech-Owl
Pallid Bat