(published 1998)
Habitat Atlas for Wildlife at Risk
Preserve Ecosystem Corridors
Link Core Reserves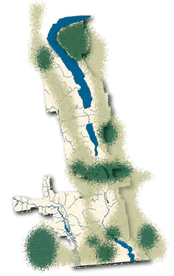 Create buffer areas and corridors linking parks and protected areas. Green shaded areas represent hypothetical core protected areas (e.g. Provincial parks, Nature Trust properties, or wildlife areas), some of which already exist (Okanagan Mountain Provincial Park in the northeast, Vaseux Lake holdings of Canadian Wildlife Service and The Nature Trust, and Cathedral Provincial Park in the southwest).
The light green shading represents desirable landscape linkages surrounding and connecting the core areas. These areas would have a lower level of protection, provided by local government zoning bylaws, provincial special management zones, and volunteer landowner stewardship and covenants.
Landscape Linkages
For a functional biodiversity strategy, areas of similar terrain should link the core reserves. Landscape linkages should permit movement up and down the Okanagan Valley on both the eastern and western sides. We must also maintain intact elevational landscape connections from low-elevation grasslands, lakes and wetlands up to forests, rugged terrain and subalpine areas.
Preserve Grassland Corridors
The Okanagan is a critical biological highway to the British Columbia central interior. Originally, the whole of the valley could serve this purpose but the corridor is difficult to maintain with current urban and agricultural land use patterns divided between private, Crown and Indian Reserve ownership.
The Okanagan Valley has been a vital landscape corridor and linkage between the grasslands of the intermontane areas and the Great Basin to the south, and the Thompson Valley and Cariboo-Chilcotin grasslands to the north. It still serves as a channel for the movement of plants and animals. It will become even more important as a corridor and landscape linkage with future climate change caused by global warming.