Skeena Quality Waters Strategy
---
Planning for World-Class Steelhead Fishing

Planning for World-Class Steelhead Fishing
If you care about steelhead angling in the Skeena watershed, you'll want to get involved in the planning process.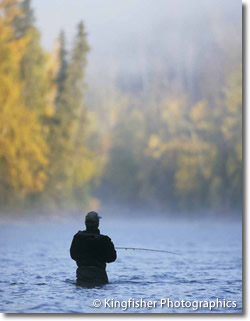 A Co-operative Approach to Recreational Fisheries Management
Rivers in the Skeena watershed have long been treasured, by residents and visitors alike, for excellent steelhead fishing. But sport anglers increasingly report that their angling experience is being compromised by crowding.
To solve this problem and improve steelhead angling on the Skeena River system, we need to work together – and plan how best to use this resource. That's why the B.C. Ministry of Environment is about to initiate an important community dialogue.
Read this section to learn about:
Background: Why Manage Steelhead Fishing at all?
Wild steelhead, a silvery, ocean-going species of trout that returns to fresh water to spawn, has always been important to the Skeena watershed. Over the past half-century, its popularity has soared among sport anglers, who revere its chart-topping size, abundance and ability to put up a great fight. As popular books and media reports continue to affirm its reputation, the species has become internationally renowned among anglers.
Today, the Skeena watershed's unrivalled steelhead angling draws residents as well as visitors, supports numerous guiding businesses, and benefits many local communities with tourism-related economic activity.
But fame comes with a price.