Skeena Quality Waters Strategy
---
Planning for World-Class Steelhead Fishing

Working Group Recommendations Now Available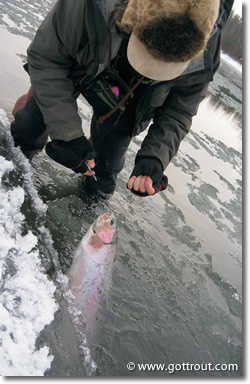 The Recommendations of the Working Groups for the Skeena Quality Waters Strategy Angling Management Plans are available for downloading:

» Working Group Recommendations

[PDF 403KB]

In November 2009, the ministry met with the all three Working Groups to review their final recommendations. During this meeting, the ministry received input from the Working Groups which required further consideration.

To develop these final recommendations, volunteer members of the three Working Groups met for three weekend-long sessions in May and June 2009 using information from the Phase II Consultation Report to develop their recommendations.
Changes to Working Group Composition
During the Phase II Consultation Process, input was received that the QWS process could be improved by additional representation from the business community. Following this input, the ministry revised the Working Groups to include interests from the business and tourism communities. The revised composition of the Working Groups included:

Five resident anglers
Three angling guides
One business representative
One tourism representative
One ministry coordinator
Working Group Composition
The final recommendations for Angling Management Plans were developed
by the following Working Group members:
EAST WORKING GROUP

[Waters: Babine, Bulkley, Morice]

Tom Espersen, resident angler
Michael Hurwitz, resident angler
Tom Jones, resident angler
Vacant, resident angler
Jessea Grice, resident angler
Bob Hull, angling guide
Brian Schneider, angling guide
Richard Pow, angling guide
Keith Douglas, angling guide (alternate)
Alex Bussman, business
Gladys Atrill, tourism
Jeff Lough, MOE Coordinator
Facilitator: Dorli Duffy, Alan Dolan & Associates

CENTRAL WORKING GROUP

[Waters: Kispiox, Kitseguecla, Kitwanga, Skeena IV (upstream from
Kitwanga Bridge), Suskwa]

Doug Eftoda, resident angler
Don Intermela, resident angler
Peter Woloshyn, resident angler
Marvin Atchison, resident angler
Vacant, resident angler
Gene Allen, angling guide
Jaap Kalkman, angling guide
Todd Stockner, angling guide
Jason Wiley, angling guide (alternate)
David Larson, business
Ursula Heuberger, tourism
Dean Peard, MOE Coordinator
Facilitator: Alan Dolan, Alan Dolan & Associates

WEST WORKING GROUP

[Waters: Kalum, Lakelse, Skeena IV (downstream from Kitwanga Bridge),
Zymoetz I, Zymoetz II]

Jason Ouellet, resident angler
Chris Culp, resident angler
Jim Culp, resident angler
Rob Brown, resident angler
Brian Kean, resident angler
Dan Daigle, angling guide
Dustin Kovacvish, angling guide
Andrew Rushton, angling guide
Randy Dozzi, angling guide (alternate)
Glenn Kelly, business
Luke Holden, tourism
Dana Atagi, MOE Coordinator
Facilitator: Sandra Bicego, Alan Dolan & Associates

Paddy Hirshfield, Quality Waters Biologist (Alternate MOE Coordinator)
Striking a Balance
Local Working Groups used the following framework:

Vision

Steelhead fishing in the Skeena watershed will provide opportunities for a world-class angling experience in balance with the needs of resident anglers, angling guides and local businesses.

Guiding Principles

Skeena watershed Angling Management Plans must create a desirable angling experience that is regarded as world-class maintain a range of angling opportunities recognize the economic value of this public resource recognize the role of steelhead angling in local business interests recognize the priority and interests of B.C. resident anglers wherever angling opportunities become oversubscribed

Scope

Angling Management Plans will focus on angler use. They will complement, but not duplicate or revisit, work of other government agencies on: commercial fishing aboriginal fishing rights uses of land adjacent to the waters conservation goals for steelhead and other species mode of transport used to access fishing opportunities management of fishing methods (fly versus gear, etc.)

Challenges

Working Group members will face many challenges. Anglers vary widely in their definitions of a high quality fishing experience, and those definitions are coloured by individual experience and preconceptions about steelhead fishing in the Skeena watershed. Every decision will require careful consideration of implications for angling opportunity, cost and enforcement. Available data about angler use will require critical evaluation.