Skeena Quality Waters Strategy
---
Planning for World-Class Steelhead Fishing

Angling Management Plans
Draft Angling Management Plan now available for download. Angling Management Plans are designed through transparent, community-level processes that consider the unique characteristics of each river. They improve angling experiences by addressing crowding.
Management strategies available for use include, but are not limited to: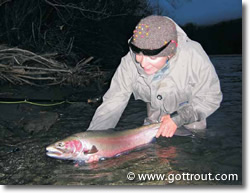 defining a set number of angler-days for a specific river
defining a set number of guided rod-days for
a specific river
placing limits on locations of angling
placing restrictions on licences
classifying waters according to their importance for steelhead angling
Before implementation, Angling Management Plans undergo several reviews by the general public, key stakeholders, regional and provincial Quality Waters Strategy Committees, and the B.C. Ministry of Environment. Their long-term effectiveness is monitored by the provincial Quality Waters Strategy Committee.
Angling Management Plans for the Skeena Watershed
If you'd like to help improve steelhead angling conditions in the Skeena watershed, read on to learn how the planning process works.
Anglers, guides and Ministry of Environment staff have identified several steelhead-bearing streams in the Skeena watershed, where angler crowding is currently an issue, or likely to become one in the future. These waters include:
Babine
Bulkley
Kispiox
Kitseguecla
Kitsumkalum
Kitwanga
Lakelse
Morice
Skeena IV, downstream of Kitwanga
Skeena IV, upstream of Kitwanga
Suskwa
Zymoetz section I
Zymoetz section II