Skeena Quality Waters Strategy
---
Planning for World-Class Steelhead Fishing

B.C.'s Quality Waters Strategy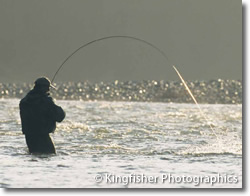 Although angling guide days remain capped at 1990 levels, the effectiveness of the Classified Waters system is declining in the Skeena watershed as the total number of anglers on several rivers continues to rise (see graph, below). Both resident and non-resident anglers say top-notch steelhead fishing experiences are increasingly jeopardized by angler crowding – and that something has to be done.
In 2005, the B.C. government responded. After extensive consultation with anglers, angling guides, and members of the public, it introduced an approach to sport-fishery management that will advance B.C.'s existing Classified Waters system: the Quality Waters Strategy.
Like the Classified Waters system, the Quality Waters Strategy aims to maintain and improve the angling experiences offered by B.C.'s waters, by managing angler use. But the Quality Waters Strategy goes further – by mobilizing expertise from the local, regional and provincial levels to create location-specific Angling Management Plans.