Regional Species Information
Topics for this section include: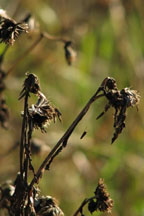 Back
Next
Photo credit: Kym Welstead
Species at risk in this region range from species that occur across the range such as Western Toad to species that only occur at one location in Canada such as poor pocket moss. Some species are familiar to most such as the Northern Spotted Owl, White Sturgeon (Lower Fraser River population), Great Blue Heron, fannini subspecies or the Grizzly Bear whereas other species are virtually unknown such as the Grappletail (a red-listed dragonfly), or False-pimpernel (a blue-listed plant), or Cryptic Paw (a Special concern - blue-listed lichen).
Please view Species at Risk in our Backyard, a great source for information about species at risk in our area.
Species with Special Survey Standards available for the following:
Great Blue Heron
Oregon Forestsnail
Oregon Spotted Frog
Western Painted Turtle
Pacific Water Shrew
Phantom Orchid
Streambank Lupine
Spotted Owl
Tall Bugbane
General advice for plant surveys (see Plant Identification page at www.eflora.bc.ca; note specific advice for rare plants)
General advice for bat surveys
For Status Reports and general information on species at risk please see the Species at Risk Public Registry (SARA).
For information on B.C. recovery planning and Provincial recovery strategies view the Recovery Planning in British Columbia website.
For more information on a particular species above, including plants and bats, please phone 604-582-5200
For more information on species at risk within the Lower Mainland region that have been listed as either endangered, threatened or a species of special concern, a list can be found through the South Coast Conservation Program.

It is important to remember that inventory has been limited for most of these species in this region and thus additional assessments through inventory work is often required.
The British Columbia Conservation Data Centre (CDC) systematically collects and disseminates information on plants, animals and ecosystems (ecological communities) at risk in British Columbia. Visit the site for access to this data.
BC Species and Ecosystem Explorer is an easy to use tool, which generate lists of provincial species and ecological communities, including conservation or legal status, and spatial distribution that can be refined by Forest Districted, Biogeoclimatic (BGC) Zones, Regional District, and Habitat Type.
Please click here for information on Species Ranking.

There are several programs underway to manage species at risk.
Grizzly Bear Management and Monitoring
Oregon Spotted Frog Recovery Program
Western Painted Turtle Stewardship and Monitoring Program (inc. Turtle Watch)
Great Blue Heron Working Group and watch
Wolverine Skagit Valley Population Study
Please stay tuned for more information on these topics.